Exciting new brand. Same great experience.
When I first launched Invibed back in 2016, I was frustrated. So many people that I cared about were in a constant state of worry over their financial situation. And it wasn't their fault. They were incredibly smart people who did all the right things. But our education system failed them. So I launched a blog called Invibed -- a judgment-free zone where my peers could finally get that opportunity to learn about money. I had a full-time job, but worked nights and weekends to post new content and courses, hoping I would make a difference in people's lives.
Fast forward to 2021, and it's hard for me to believe how far we've come. We created a tech platform, built an incredible team of the most talented and kind-hearted people ever, and landed partnerships with dozens of the most amazing employers and universities in the country. We now have the privilege of being able to spend each day helping thousands of clients in our community achieve their goals and live their happiest lives.
If you're reading this, all I can say is thank you. We could not have made it this far without your support.

We've grown up. Our approach has changed from educational content on a blog to a proprietary process backed in behavior science. The OneEleven brand accurately represents who we are today and who we will be going forward.
Creating an inclusive community is also a top priority for us. While we're still serving the millennial generation, we now have wonderful clients of all ages and backgrounds -- from college students who are working with us to create their very first budget to successful professionals who are working with us to translate their 401(k) into a plan for retirement that they feel excited about. We needed a brand identity that everyone in our community could feel connected to.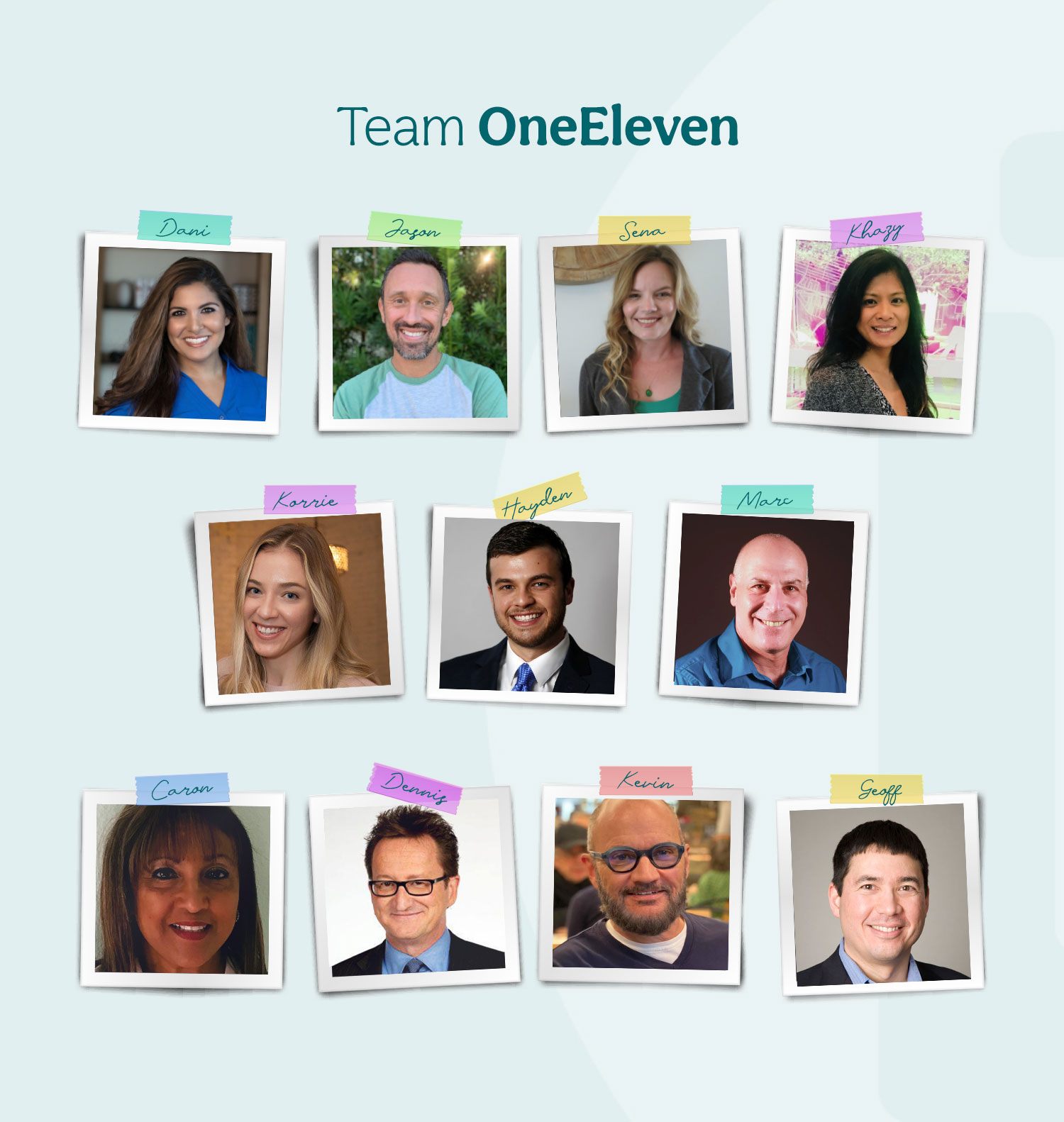 The meaning behind OneEleven
We surveyed several of our clients and asked what they liked the most about working with us. Two key themes emerged from these conversations:
"I always used to worry about money. But once I became a client, I realized that I'm definitely not alone and I feel really supported."
"I'm happier because I am living my life more deliberately and am making money moves that enhance my present and future with every paycheck."

The name OneEleven encompasses both of these themes and describes who we are at our core: a community of amazing people (One) who are deliberately creating a life that they would rate an 11 on a scale of one to ten (Eleven). At the end of the day, the reason why we do all of this 'finance stuff' is to live a life that makes us happy.
Our logo was chosen because everyone sees something different in it: a smiley face, an overflowing cup to represent fulfillment, the number 11, a baby standing in its crib. We love that people see different things because it's a nice parallel to one of our core beliefs: Success and happiness look different to everyone. This is exactly why we tailor our whole experience to each client's individual goals.
Our tagline is 'fund your happy.' This is our main goal for every client that we work with. We want everyone to use their income to maximize their happiness.
If you have any questions or feedback, you can always reach us at hello@oneeleven.co. My team and I can't wait to see you #FUNDYOURHAPPY!
Best,
Dani Pascarella, CFP®
Founder + CEO, OneEleven